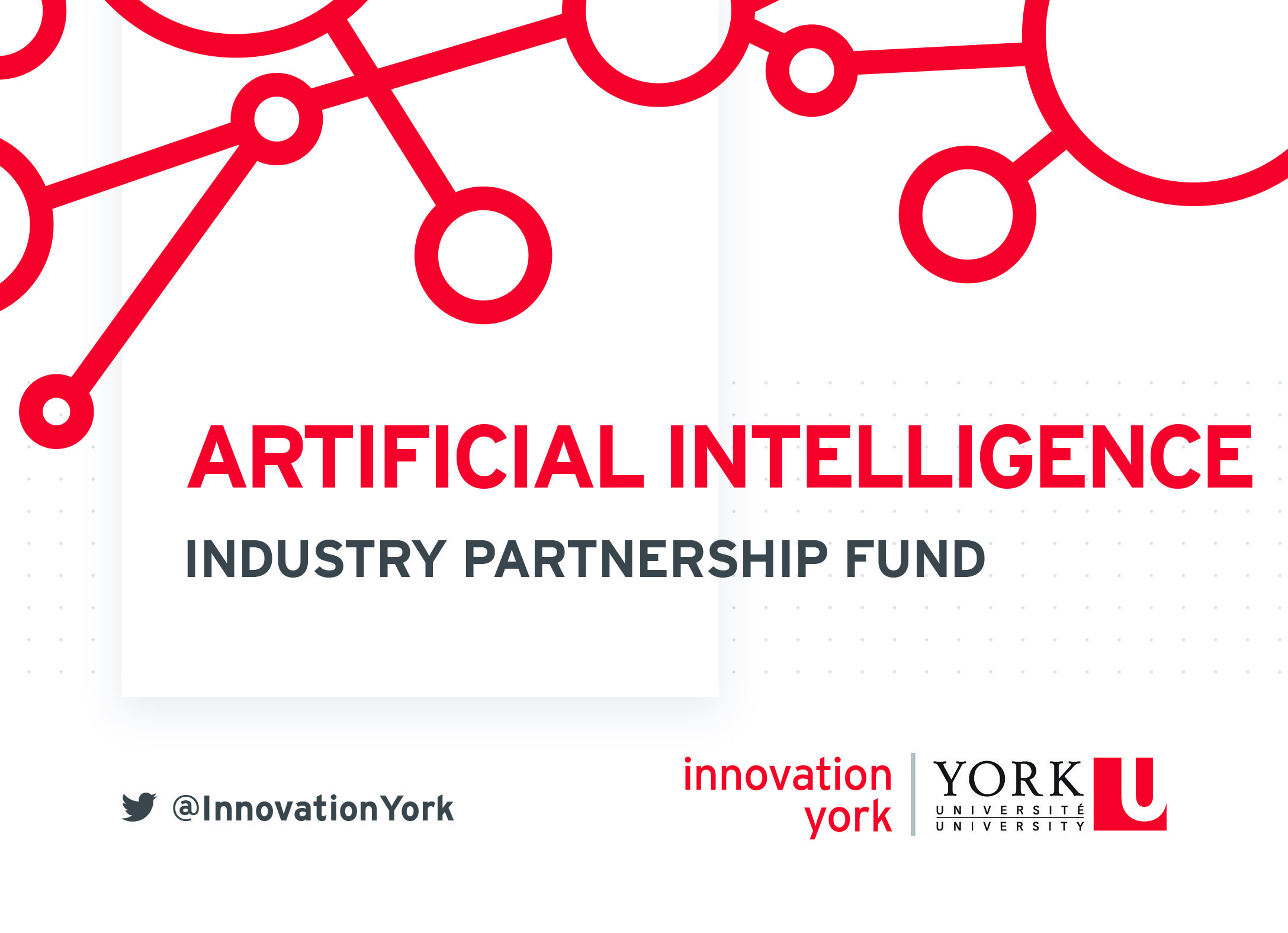 Applicants: Canadian SMEs, who are, or will be, partnered with YorkU faculty members
For those requiring assistance finding a partner, please contact Cheryl Giblon, Industry Engagement Manager, cgiblon@yorku.ca.
Application Deadline: September 27, 2018, 4:00 pm Eastern Time
Funding Amount: Up to $10,000 in cash per selected research project (no funding to industry partners).
Project Length: 2 to 4 months
Use of Funds: To execute industry-driven research projects in Artificial Intelligence / Deep Learning / Machine Learning in support of industry-academia partnerships. The funds can be used toward student stipend and project materials.  Travel, living expenses and seminar costs are ineligible.
Eligibility:
The industry partner must be a Canadian SME with up to 500 employees, capable of exploiting the results of the research.
The industry partner must be in business for a minimum of one year.
The research project must be jointly supervised by the faculty member and the industry partner, with the work being performed by Masters, PhD or PostDoc.
Intellectual Property
All prior intellectual property belongs to the inventor/owner. As required by IRAP, all intellectual property developed under the project belongs to the industry partner.
Impact
For these programs, we anticipate the impact for the company will be a combination of the following, depending on the individual project:
Proof of Concept or working prototype
Recommended Machine Learning models and algorithms
Assessment of company's existing dataset and recommended data strategy
The goal is to have projects funded under this program evolve into larger long-term initiatives.
Proposals: The proposal includes the following sections:
Company and Researcher Contact Information
Title of the proposal
Project description (250 words)
Milestones (100 words)
Budget (all expenditures must be in support of the research project, with no overhead component)
Future plans for commercialization (250 words)
Process: Completed application word document proposals must be submitted by email to cgiblon@yorku.ca by September 27, 2018 by 4pm. Once the proposal is submitted, a review panel comprised of three representatives, one from Innovation York, one from IRAP, and an independent reviewer will review it for eligibility and quality. The Proposal will be ranked based on (a) research description, (b) project plan and (c) company plans for commercialization. The funding will be awarded to the top proposals.
For those requiring assistance finding a partner, please contact Cheryl Giblon, Industry Engagement Manager, cgiblon@yorku.ca.
Project Execution: Once funding has been awarded to an SME/Researcher project, project execution will begin.  Projects must be completed by March 1, 2019.  Work performed by York University resources on the projects will be claimed on a monthly basis for IRAP reimbursement.  The final financial claim must be submitted by the York University researcher by March 8, 2019.
 Reporting: A final report will be due sixty days following the completion of the project (see project length above) that will include the following sections:
Overall outcome of the project (100 words)
Milestones achieved
Milestones not achieved and the reasons
Use of funds
Next steps (50 words)